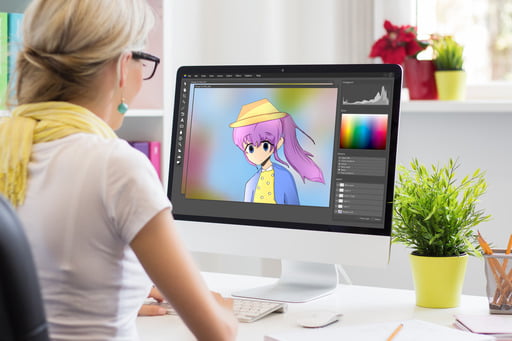 The days when you had to pay top dollar for good animation software are long gone. Today, thanks to the variety of open-source communities, you can find great animation programs for both 2D and 3D projects online. What's more, a lot of them are free.
Are you new to animation or are you an experienced professional? Well, whether you are using a Mac or a Windows PC, you are sure to find free animation software that's right for you. You just need to do a bit of a search.
Here's the good news. In this post, we've summed up seven free animation programs to help you narrow down your search. Let's take a closer look at each one.
Best Free Animation Software in 2021
Here are our top picks for the best 2D and 3D animation programs:
Pencil 2D: Best Free 2D Animation Software for Beginners
Pencil 2D is a great choice if you are just starting out in 2D animation. The software is an open-source tool and a powerful piece of software for working on vectors and bitmap animation.
Key features:
Straightforward and intuitive interface - You will quickly get the hang of the software even if you've never used similar programs before.
Toolbars and panels that you can arrange in any way that best fits your needs
The software supports layers, a timeline with a keyframe manipulation system, onion-skinning, colors, pressure sensitivity, and more.
Clear and uncluttered timeline: a feature that experienced animations will surely appreciate.
Note that as its name suggests, Pencil 2D only supports 2D animations.
The key advantages of using Pencil 2D are its user-friendly interface and a soft learning curve — which makes it perfect for beginners.
The main disadvantage is that the software lacks advanced features that more experienced users might need.
Animation Paper: Best Overall Free 2D Animation Software
Animation Paper is the updated version of the very popular Plastic Animation Paper 4.0. The new version of the software is available for both Mac and Windows users.
Key features:
Minimalistic but highly intuitive interface
Onion-skinning, light setup, layers and different colored pens for planning, and scene drafting
User-friendly interface and a plethora of "how-to" tutorials on YouTube
Extra features like Wacom pen support and handy shortcuts for zooming, rotating, and toggling.
Note that the software is currently free but will only remain free while it's in the alpha and beta releases. Once it's all done and ready, you will need to get $79 out of your pocket to pay for the final version.
The key advantages of using Animation Paper are the program's interface and hand-drawn animation.
The main disadvantage is that software is only temporarily free.
Synfig Studio: Best Free Animation Software for 2D Projects (Open-Source)
Synfig Studio is a free animation app that is very generous with features:
In addition to your standard setup of drawing tools, keyframes, onion-skinning, and shape tools, you will find lots of handy extras. For instance, Synfig Studio lets you work with bitmap and vector animations. It even comes with several advanced features that may take some time to master.
Automatically append keyframes to ensure a smooth workflow
Supports pressure-sensitive tablets and touch screen computers
Pro functionality onboard, including the support of gradient routes
Overall, Synfig would be the perfect match for animators with some experience looking for a free but powerful tool.
The main advantages of using the software include the that it is quite rich in features (especially, for a free program). It also comes with a good setup for vector animation.
The main cons are a lack of tutorials and a pretty steep learning curve.
Blender: Best Free 3D Animation Software for Beginners
Blender has been around for quite some time and has evolved into sophisticated animation software while remaining free to use.
Key features:
There are lots of tools onboard for modeling, lighting, post-conversion video operations, and more.
The software works on most major platforms and operating systems.
The program has a large friendly community of users.
There are also lots of tutorials available for free online.
The key advantages that come with using the software are its abundance of features, a big user community, and easy learning with lots of online tutorials.
When it comes to disadvantages, we can only mention a learning curve that may take some time to overcome.
Krita: Best Free 2D Animation Software with Onion-Skinning
Krita is another great option for both beginners and users with experience.
Key features:
An intuitive user interface for digital artists
Support of animation via onion-skinning
Drawing tablet and touch screen support
A big open-source community with plenty of tutorials, materials on vector graphics, animation templates, and other downloadable content
All-platform support — including Linux
The main advantages of using Krita are its strong open-source community and great painting tools.
The disadvantage con that some users have reported is that sometimes the program randomly crashes.
Clara.io: Best Free Browser-Based 3D Animation Software
Clara.io is a cloud-based animation program that works well for stick-figure animation and polygonal modeling.
Key features:
An extensive range of mesh tools to use.
Instruments for sub-object editing, surface subdivision and more.
A set of real-like effects that you can tweak by adjusting the lighting.
A friendly community of over 80,000 users.
Wide browser compatibility.
Some of the main advantages of using the software are the wide compatibility and easy use.
The main disadvantage is that it hasn't been upgraded in a while and there are no scheduled upgrades in the near future.
DAZ Studio: Best Free 3D Animation Software
We conclude our list with DAZ Studio, our overall top pick for the best free 3D animation software. It comes with lots of features, some of the best design engines on the market, and an interface that is easy to navigate for both newbies and pros.
Key features:
Lots of tools for posing, rendering, and animating 3D figures
Simple registration and software download
User-friendly interface and a very fast design engine
A large library of materials for creating high-quality animations
Perfectly suitable for both beginners and pros
So, here come the key advantages: intuitive interface, realistic imagery, and a powerful time-saving design engine.
The disadvantage that we could find was that tweaking animations could be a bit clunky.
Conclusion
So, as you can see from above, there are lots of free animation tools that you can find online. There's a great collection of 3D animation programs that are suitable for beginners and professionals.
However, when it comes to sending your animated creations online, there are not that many options. In fact, finding a quick and efficient way to send a large file online can prove to be quite a challenge.
Fortunately, we have another great tool to share with you today. It's called FileWhopper — and it's the best way to send large files online. Here's what makes FileWhopper different:
FileWhopper lets you send files and folders of ANY size. While many services set limits on how big of a file you can send, FileWhopper doesn't. With it, you can easily send over a 10 TB folder — no questions asked. This means that you don't have to worry about compressing, syncing, or splitting your content — you can send it as it is.
FileWhopper works on a pay-as-you-go basis. It won't ask you for a subscription and you won't have to commit to long-term payment plans. All you will need to do is pay for the transfer you are making right now — based on the size of the file you are sending. What's more, you can choose who gets to pay for the transfer: you can pay for it on your side or ask the recipient of the file to handle the payment.
Your transfers with FileWhopper are protected against interruptions. In the case of a connection failure, the transfer will simply pause. It will then resume when the connection is restored.
The data you transfer with FileWhopper will never fall into the wrong hands. The program uses zero-knowledge encryption (the strongest data safety protocol available today) — and no one (including the FileWhopper team) will have access to your data.
FileWhopper works with super small upload and download apps to arrange its transfers. As soon as your file or folder is sent, the app will auto-delete. And once your file is received, you will get a delivery report.
Finally, a great thing about FileWhopper is that you don't have to simply believe a review. You can test out the service with a 5GB file transfer for free.