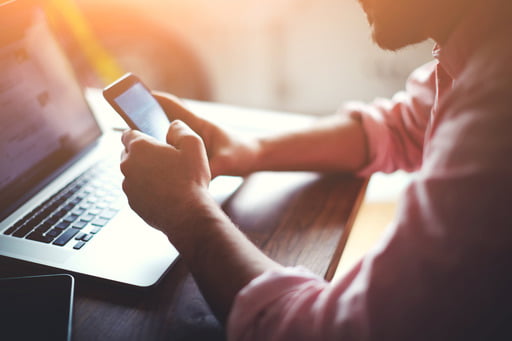 WhatsApp is one of those apps that have significantly improved the way we communicate. Initially, this app was designed to be compatible with smartphones and tablets. But as the developers continued working on it, they released a version that is also compatible with PCs. That version is what we have come to know and love as WhatsApp Web.
Technically, WhatsApp Web is the version of WhatsApp that can be used in a web browser. It's compatible with most of the latest web browsers, such as Chrome, Edge, etc., and it's ready for use on your personal computer. Using this version, you can easily enjoy WhatsApp from your desktop. If you have WhatsApp Web, here are some of the cool features that you can take advantage of:
Ability to easily receive, read and send messages directly from your web browsers.

Full sync of all messages and media you receive. Everything is synced between your PC and smartphone. You can fully use WhatsApp from either of your two devices.

Ability to upload and send documents via WhatsApp directly from your computer. This saves you a lot of time if your office uses both the app and emails for communication and you don't want to burden your phone with big files.
Features That Come with WhatsApp Web
In case you already love the WhatsApp app on your mobile and don't feel like you should carry on reading, check out this section first. If you're really convinced you don't need WhatsApp Web, then that's okay, consider using FileWhopper for sharing media files. Anyway, WhatsApp Web comes with a lot of cool features. Take a look at some of them:
WhatsApp Web comes at no extra costs: you can download and use it for free.

WhatsApp Web offers free messaging whereby you can easily send messages or multimedia to family and friends.

Read messages in the background without ticks turning blue. Just open another program window and place your cursor there so that your WhatsApp Web will think you are not on the app but somewhere else. This way ticks turn grey (as if the messages were received but not read).

WhatsApp Web comes with a wide range of keyboard shortcuts that make the tool easy to use and navigate.

Also, on WhatsApp Web, selecting emojis, GIFs and stickers is easier than when you're using WhatsApp from the phone.

You can choose how you want to use and manage the app, with an option of using multiple WhatsApp accounts on the same computer (for this, we recommend using different browsers or incognito windows).

Easily adjust the audio playback speed or alter the volume.

Use your webcam when on WhatsApp Web.

Send large-sized documents and files with ease.
Alright, fair and fine, you have read this far. You might have been sceptical about this entire read. And now that you know of the cool features attached to WhatsApp Web, you are sold. What is the next step? Is WhatsApp Web app free? Yes, of course: on the list of some of the best features, this piece of information was the first to be mentioned.
With WhatsApp Web being a free platform to download and use, what are the steps or additional requirements to set it up and have it running?
What You Need to Get Started with WhatsApp Web
It's not surprising that you actually have most of the items necessary to get started using WhatsApp Web. But you're reading this, and it won't kill to be thorough about the details around WhatsApp Web and how to use the service. Here is the checklist of the items that you need to get started:
An active internet connection for your PC and phone.

A smartphone that has a working rear cam.

A functioning PC with access to modern web browsers, such as Google Chrome and Firefox Mozilla.

An up-to-date WhatsApp version on your smartphone.
If you have all these, you can get started and move on to setting up WhatsApp Web.
How to Set Up WhatsApp Web On a Windows PC
It's straightforward. After checking that you have the four most basic items, you can get started with setting up a WhatsApp Web app on your PC. Follow these steps:
Open your default web browser and visit the website web.whatsapp.com. You should see a QR code and a tutorial next to it titled

To use WhatsApp on your computer

.

Follow the steps exactly as instructed.

As soon as the rear camera of your smartphone scans the unique QR code, things will be synced between your WhatsApp and WhatsApp Web.
Alternatively, you can select to download the WhatsApp Web app for your desktop from your browser; this way, once you complete downloading and installing, you will only read the QR code once, not every time when you want to start using the app. Again, always know that this depends on your preference. There is no requirement or set rule on how to use your WhatsApp Web.
How to Use Multiple Whatsapp Accounts on A Single Windows 10 PC?
If you are one of those people who use multiple WhatsApp accounts on their phones, you will definitely be interested in learning how to use them on WhatsApp Web. You can continue using all your WhatsApp accounts on WhatsApp Web from the same computer.
This is where it becomes important to learn how to comfortably use more than one web browser. You can easily access WhatsApp Web from several different browsers on the same PC.
If you want to use several WhatsApp Web accounts on the same browser, you can do so by opening incognito windows. However, the incognito windows close after an hour max. You can use the incognito window if you just want to quickly check something on your other WhatsApp account. Alternatively, open all your accounts in different browsers and use them as long as you want.
Limitations Associated with WhatsApp Web
You already fell in love with WhatsApp Web because you know what you can do on it. There are some limitations that you should know about as well. Here is a list of the top things that you aren't able to do on WhatsApp Web:
You cannot use WhatsApp Web if your phone is off. You need a working phone first.

It's impossible to send a WhatsApp Broadcast on WhatsApp Web.

There is no way of making or receiving phone calls or video calls on WhatsApp if using WhatsApp Web.

It's impossible to share your current location or maps.

There is no way of adjusting the WhatsApp settings for media downloads.

No way of uploading or updating your WhatsApp status.

While you can access WhatsApp Web and WhatsApp Desktop from the same computer, it's impossible for these to run parallel, i.e. at the same time.
You can use your WhatsApp Web and enjoy it the way it is. Especially when considering that its inability to function without your mobile WhatsApp acts as a security measure. In case you are away, no one can access your WhatsApp account from your PC. The phone app must always be running for the WhatsApp Web app to be active.
Alternative Method of Sharing Media From Your PC
If these limitations have turned you off or if you are interested in how you can possibly deal with media uploads and downloads without having to use WhatsApp Web altogether, then this is your section.
Get acquainted with FileWhopper, an online platform that allows uploading and sharing media seamlessly. Using FileWhopper is easy. There is no need to pay a regular subscription fee. You can visit the official website and select the file you would like to upload and get started. Upload huge media files, even 1 TB, with ease.
Once you have uploaded your files, you can copy the link and share it with your friends. Your upload is password-encrypted to help add security on your part. The recipient can use their password to open the files sent to them. If the recipient doesn't act within 14 days after the upload has started, the site will wipe out all the files so that they will not leave any trace online. If the recipient opens the link, then they can download what is shared with them before FileWhopper deletes everything from the site.
You can access FileWhopper whenever you like. Just check that you have an excellent internet connection and easily start sharing.