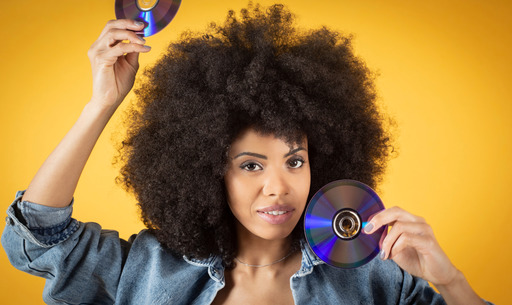 Do you still watch movies or play games from DVDs in your home? The files are most likely in the VOB file format, which is the most common video DVD format. However, nowadays it's becoming harder and harder to find DVD players, with most people preferring USB flash drives, SSDs, or HDDs to store video files.
If you have a DVD and wonder how to play .vob files, we will show you simple steps on how to open, convert and play them. We will also share the best method to send large VOB files online.
What Is a VOB File?
Simply put, a VOB is a video file from a DVD disc. The Video Object (VOB) is typically stored in the VIDEO_TS folder with a .vob extension, at the root of the DVD along with other data like .IFO and .BUP files. It contains the actual movie data, including the DVD menu, video, audio, subtitles, and navigation content.
The data, which is sometimes encrypted, is based on MPEG-2 video stream format but comes with additional support for audio such as AC3, MP2, and DTS.
How to Open VOB Files
While various software programs can open VOB files, not all of them support this file format. Some of the programs that are compatible with the VOB file format include:
For Windows users:
Windows Media Player
VideoLAN VLC media player
GOM Player
Media Player Classic
KMPlayer
For Mac users:
For Android users:
VLC for Android
VOB Video Player
For iOS users:
Movie Player 3
8Player Pro
How to Play a VOB File on Windows
If you have a DVD and want to watch the media from your Windows machine, but don't have a clue how to do it, here's a short guide:
Play VOB Files on Windows Using Windows Media Player
For starters, if the Windows Media Player version you're trying to use doesn't have the MPEG encoder and decoder, it won't play the VOB files. You'll need to install the right codec to support the file.
Windows Media Player 12 or higher offers the best chance to open and play VOB files. However, it is not guaranteed to work.
Play VOB Files on Windows Using VLC Media Player
The VLC media player is one of the best platforms to play VOB files without any issues. It's an open-source, cross-platform program that's compatible with just about any media file, be it MP4, MKV, WebMD, or FLV, among many others.
Simply drag and drop the folder containing the VOB files, and VLC will automatically play it without delays or lags. The best part is that VLC also works on Macs, as well as Android and iOS devices.
Other excellent media players to try are Media Player Classic and KMPlayer.
How to Convert a VOB File?
The VOB file format isn't well supported by the built-in media players on Windows or Mac. So, if you encounter issues trying to play a VOB file on your machine, you may have to consider converting it to a format like MP4, AVI, MKV, or MOV first.
MP4 is one of the most compatible video file formats supported by media players.You can even upload an MP4 file to Instagram, Facebook, TikTok, Twitter, and YouTube, and they'll run without problems. Additionally, you can view MP4 files on any device.
The good news is that there are various free video converter programs and online services that you can use to convert a VOB file to a format you like.
If you wish to convert VOB to MP4, here are a few tools to check out:
1. Any Video Converter
Any Video Converter is one of the easiest and best VOB to MP4 converters out there. You just need to choose the source of the file and output format, and that's it!
The tool supports a myriad of file input and output formats including:
Input formats:
Output formats:
MP4
GIF
FLV
WAV
WMV
WMA
MOV
MP2
MP3
AC3
In short, you can use this tool to convert nearly any file to an output format of your choice.
2. VLC
The open-source and free software not only plays a wide variety of file formats, but it can also convert your VOB file into MP4 or other multimedia files. What's more, you can use it to stream on popular websites like Hulu, Disney, and Netflix.
VLC is known for its versatility and can support different devices, as well as videos from social media platforms.
To use VLC to convert VOB to MP4, follow these steps:
First, ensure that you're using the latest VLC software for the best results.
Launch VLC and select Media > Convert/Save…
Switch to the Disc tab and select DVD.
Click Browse and choose the folder containing the VOB files you want to convert.
Choose Convert from the Convert/Save dropdown list.
On the next screen, next to Profile, select your output file name, which must end with the MP4 extension. You can choose either Video - H.264 + MP3 (MP4) or Video - H.265 + MP3 (MP4).
Next, click Browse under Destination, and choose where you want to save the converted file.
Click Start to initiate the process.
VLC will begin the conversion, which can take a while, depending on the number and size of files being converted.
3. Handbrake
Handbrake is another great VOB to MP4 converter that's compatible with Windows, Mac, and Linux. Like Any Video Converter and VLC, it can handle plenty of other video and audio formats and is easy to use.
The only drawback is that it requires extra software to rip DVDs. Otherwise, it does the job just fine. The tool also comes with some very useful customization and editing features.
Other media converters worth trying include:
Convert Files
VideoCruise
Windows Live Movie Maker
FFmpeg
If you don't like the idea of bloating your PC with software, you can opt for an online video converter that doesn't require installation, such as:
4. Online-Convert
Online-Convert is a simple program that allows you to convert your VOB file to MP4 online. All you need to do is select the output format you want from the home page to open the correct page.
Next, drag and drop the file you want to convert and simply click Start. There are additional options you can select, including the file size, video bitrate, video codec, and so on. Keep in mind that to convert more than two files at once, you'll need to subscribe to the premium version.
How to Send a VOB File Online
Naturally, video files are big in size. So, when you have several VOB files that you want to transfer online, you may be frustrated by the size limitations of the various file transfer platforms.
But don't fret. We have a hassle-free and simple solution to sending large video files online. FileWhopper is a file-sharing service that's quickly gaining popularity because of its flexibility, affordability, and reliability.
Not only does it ensure fast and secure file transfers, but it's also one of the cheapest services in the market. You only pay for the file size you're sending, which is quite affordable, compared to cloud services like Box, Google Drive, and OneDrive.
Some of the features you get with FileWhopper include:
No limitations on the file/folder size you're sending
Supports any file formats
It's a pay-as-you-go service
No subscription plans
Allows file storage for up to three months
Supports simultaneous uploads and downloads
Utilizes the FileWhopper app, which supports quicker transfers and auto-resumes file transfers
FileWhopper boasts of a clean user interface and is simple to use. Get started today and send your first 5GB free!