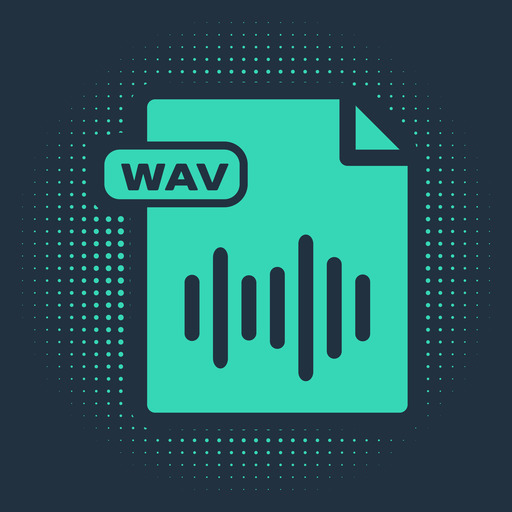 Since its creation by Microsoft, the WAV files have been an excellent way for musical artists to share their works easily without damaging sound quality. It is one of the oldest and most popular audio formats and has been the de facto standard for storing audio on PCs.
Although it was originally designed for PC use, it is now the standard for digital audio storage.
It has also been adopted by users of other computer systems, including Macintosh. This enables developers the freedom to transfer, say, audio recordings between platforms for processing.
But what is WAV? What makes WAV different from MP3 or OGG?
This guide will explore these questions and more.
Let's begin.
What Is WAV?
A WAV file is a raw audio format developed by IBM and Microsoft and used in Windows 3.1 operating system (OS). Before digital audio became common, WAV files were embedded sound files that played a chime-like sound upon Windows boot.
The Resource Interchange File Format (RIFF) is the basis for this WAV file. And it does so by storing audio recordings in chunks and sub-chunks that are then indexed.
The WAV file had two major benefits when it was first introduced. For starters, being a lossless format, it could produce digital recordings identical to the original ones.
When referring to audio files, "lossless" means that the recording quality is maintained regardless of the compressed data stored.
The second advantage is how simple it is to make changes and edits in this format within a computer program.
WAV Vs. MP3: What Is the Difference?
Before laying out the difference between WAV vs. MP3, let's find out what MP3 is and its purpose.
What Is an MP3 File?
The Moving Picture Experts Group (MPEG) created a digital audio format for MP3 (or MPEG Layer 3). The purpose of this audio format was to create a considerably smaller file size that was identical in sound quality to that of a compact disc.
The compression ratio of an audio file after an MP3 conversion is between 10 and 12. That means an MP3 file can reduce a 55 MB audio file to a 5 MB file size.
This process uses a lossy compression method, and perceptual or temporal noise shaping decides what audio gets lost.
MP3 files can have a bit rate of anything from 90kbps to 320kbps; the lower the bit rate, the poorer the quality.
What Makes WAV Different from MP3?
WAV files are uncompressed copies of the original audio format, which is the major difference between them and MP3 files. As a result, WAV files have excellent sound quality.
The audio files converted to the MP3 format are compressed versions of the originals. Because of its usage for archiving big files, the audio in MP3s is hugely compressed.
The WAV format is ideal for a high-quality music file since you get the raw data. However, these audio files are quite large, which means they takeup lots of space.
MP3 Is the Most Popular Choice
When it comes to audio files, MP3 is by far the most popular choice for both storage and transfer. However, because the audio files are compressed, their quality reduces.
The audio quality reduces even more with increased compression, and the file may become distorted.
OGG Vs. WAV: What Is the Difference?
What Is OGG?
The Xiph.Org Foundation developed OGG as a free and open alternative to proprietary container formats like AAC or MP3. However, not many media players are compatible with OGG audio files, so their usage has declined.
The OGG format was developed so that high-quality digital multimedia may be streamed and edited without interference from software patents. Multiple audio, text (like subtitles), video, and metadata streams can be multiplexed in the OGG container format.
Theora is a lossy video layer for the OGG multimedia library. The audio layer is typically provided in the music-centric Vorbis format. Speex, a lossless audio compression codec, FLAC, and OGG are three different choices.
What Makes WAV Different from OGG?
OGG uses lossy compression, but lossless compression is used by WAV. This is where WAV is superior to OGG. OGG is also more space-efficient than WAV while maintaining audio quality.
While WAV is extensively used on Windows systems, it is not nearly as widespread as OGG, which is a similar codec.
In short, what works best in your situation is what's helpful to you.
How To Open a WAV File
You can open a WAV file with many everyday media players such as:
VLC,
Groove Music,
Windows Media Player,
iTunes
Though it's quite rare, it's possible that your file isn't an audio file but was stored in a format other than WAV or WAVE. Test it by viewing it as plain text or opening it in a free text editor.
If "RIFF" is the first letter of the filename, it is an audio file and can be opened with one of the applications listed above.
If not, the file may be corrupt (try downloading or copying it again).
Any text editor can open the file and read it if it is just a text document and the text is readable and not gibberish.
How To Play WAV Files?
Depending on your operating system, there are different ways to play WAV files. Let's go through each of them.
How To Play WAV Files Using Windows Media Player
Use Search to launch Windows Media Player.
Drop a WAV file to Windows Media Player from Explorer.
Press play
How To Play WAV Files Using VLC Player On Any OS
VLC is a free, open-source media player that supports various file types without installing additional codecs. Because it is cross-platform, its features and user interface are identical on Windows, Linux, and macOS. It also supports iOS and Android.
To listen to a WAV file on your computer, follow these simple instructions using VLC:
First, get the latest version of VLC from its official website.
Open VLC
Open the WAV file by clicking "Open File" on the "Media" drop-down menu.
Select the WAV file you want to hear from the file picker dialog, and click "Open."
How To Convert a WAV File?
You can convert a WAV file in several ways. First, you can use an online converter. You can use an online converter to convert a file to another audio format.
Of course, this may not be the best option because it requires uploading and downloading a file that can be quite huge. But that is where websites like FileWhopper come in.
You can send WAV files of any size with a few clicks. It is fast and comes with top-level data protection.
Alternatively, you can use a dedicated converter tool that needs to be installed on your computer. You can convert multiple files simultaneously without the need for an internet connection.
You can change your WAV files if you have iTunes on your computer. Just click the "Preferences" menu and hit the "Import Settings" option.
Choose the output format for the converted audio file. Then click "File Then Convert" after finding the files you want to convert.
How To Convert WAV to MP3?
It's easy to convert WAV to MP3 using Windows Media Player. Here's how it works:
Click and drag a WAV file into Windows Media Player's Library tab to add it to the program's music collection.
The music can be converted to whatever you choose after it has been imported. From the "Options" drop-down, choose "Rip Settings," and then click the "Format" button to convert WAV to MP3.
When the drop-down for "Format" appears, choose MP3. The "Apply" button saves your changes. After that, you may choose the WAV file and hit the "Rip" button.
The WAV file will be converted to an MP3 and saved to your chosen location.
Using Online and Offline Converters for WAV Files
Online Converters
CloudConvert is an excellent online audio converter if you just need to do so occasionally.
If you need to convert a crucial file, read the online converter's policy beforehand. That's because some online converters may hold your files for long, if not forever.
Offline Converters
You can also use offline converters as another alternative. Use these converters if you need to convert regularly or have sensitive information you don't want online. You can use software like Audacity or FFmpeg.
Audacity is an open-source program that works on multiple platforms. It's an excellent choice for editing or converting audio files.
The one drawback is that you will need to perform some preliminary setup (installing LAME). Another disadvantage is that you will have to convert files individually.
FFmpeg is a free, open-source audio and video converting command-line program that works on various platforms.
You can do it with FFmpeg if you want to convert multiple files simultaneously. But you will have to read the documentation to learn how to set various options and pass a file list.
However, FFmpeg's lack of user-friendliness is its primary drawback. You will need proficiency with command line utilities.
Final Words
There are primarily two advantages of using the WAV. The first is if you need an audio file that can be transferred without problems between various devices. This is so because the file can be used with a limited number of codecs.
WAV is a helpful file format since both Windows and Mac computers can use it.
WAV audio files are ideal because of their raw audio quality. That means you get the original sound quality. While this results in a bigger file size than compressed audio files, you can freely share and edit without losing quality.
It's convenient to use the WAV format because it's still widely used. You can use this convenience to produce better, uncompressed sound quality.