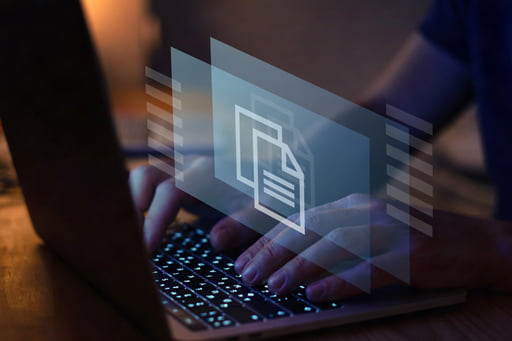 Every file that you open on your Windows computer has a file extension. However, they all come in different formats depending on the type of data they contain. If you are wondering how to change file types on Windows, you will find the answer to this question below.
There are times when you want to change a file from one format to another. For example, you might have some of your picture files in JPG, and you want to change them to PNG. To do this successfully, you need to change the extension type.
While this can be as easy as simply renaming the extension, sometimes following this method can break the file. In this guide, we will show you how to change the extension of a file in Windows 10 so that your system can open it successfully.
What is a file extension?
Whenever we talk about files such as PDFs, ZIPs, and MP3s, we are referring to the file extension (or file type). These formats enable computer systems to identify the contents of a file and then figure out which software is needed to open it. This is how Windows and macOS devices are able to decode that an MP4 file needs to be opened by your video player or a DOC file by the MS Word application.
A file extension acts like an operator informing Windows to open a PDF file using Adobe Reader (if you have the app installed on your computer).
If a file is created with the wrong extension, Windows will try opening it with the wrong program or application. This, of course, leads to an error, as the app will be unable to read the contents of the file. For example, since Microsoft Word can only read documents, MS Word will be unable to open an MP3 file even if you change the extension to .DOCX. This is because the contents of an MP3 file are not text related.
To change a file extension from one type to another on your Windows 10 successfully, you need to do it correctly by employing the proper method. One way to convert a file to the desired format is by using an online conversion service. You can also do this by saving it to the file type of your choice.
However, if you are confident that the file will still open, you can quickly rename the extension by using a built-in app on your PC known as Windows File Explorer. Keep in mind that while this method is more accessible than the other techniques, the newly created file might fail to work properly.
How to change a file extension in Windows 10
To change a file format on your PC, you have to view the extension first. In previous versions of the Windows Operating System, this was easy. However, in the new Windows 10 OS, the extensions are hidden by default preventing users from changing the file type quickly. This means that you have to adjust the extension settings first from 'hidden' to 'visible' in order to view and change the file extension using Windows File Explorer.
How to display file extensions on Windows File Explorer
To make file extensions visible on your Windows 10 computer:
Launch the Windows File Explorer program on your PC and select View from the ribbon bar. Choose Options and then click on Change folder and search functions.
In the Folder Options window, go to the View tab and ensure that the checkbox next to Hide extensions for known file types is disabled. Now, click on the OK button to confirm and save your changes.
Now that you have successfully disabled this setting, the file extensions should be visible for you to see. They will appear as part of the file name when you view each file through the Windows File Explorer app.
How to safely change a file extension using Windows File Explorer
Now that you have successfully made the extensions visible on your computer, we will show you how to change a file's format safely using Windows File Explorer.
You can do this by renaming the chosen file and then changing the old extension to the new extension you want the file to be in. For example, you can replace the file.doc with file.txt or vice versa. This will change the DOC Word document to the TXT text file type. Since both files contain texts, any program (such as MS Word) designed to read them should still be able to open the new format.
Keep in mind that the above scenario is only possible because Word was built to smartly fill in the gaps and read the two file types. If you attempt renaming a TXT file to the new DOCX format for Word documents, MS Word will be unable to open it correctly because DOCX is a more complex extension.
However, if you believe the file will still be readable after changing it to a new extension, then you can follow these steps to rename it:
Launch the Windows File Explorer program and right-click on the file you want to rename its extension. From the options list, select Rename.
Now, delete the existing file extension and change it to the new extension of your choice. Hit the ENTER key on your keyboard or click on the white space outside the name box to confirm your selection.
Windows will display a prompt warning you that renaming a file's extension can break the file. Select OK to confirm that you want to continue. This will save your changes.
Immediately after confirming the modification, Windows will change the file extension and list the file as the new file type under the Type column. Depending on the extension type used, you can now open the file with the appropriate program. If it fails to work, follow the same steps described above and return it to the previous extension.
How to save a file in a different file format
If using Windows File Explorer to rename a file extension does not work, you can try saving or exporting the file to another format. This method is a better option because simply renaming the file type with Windows File Explorer does not change the data contained in the file. Therefore, replacing a file extension name does not work in all cases.
On the other hand, exporting or saving a document to a new file type makes it possible to modify a DOCX file to a PDF. You can also alter a BIN to ISO with this solution. While this method will change the data type contained in the file, it only works because these file types are related.
However, when it comes to changing between unrelated file types, it becomes more complex. For example, even though it is possible to export PDFs as images, you cannot simply rename a PDF extension to a PNG file. The new file will fail to open if you do this. To carry out such complicated conversions, you need a conversion tool. We will explain how to do this in the next section. For now, we will show you how to export or save between related file types.
To export from one related file type to another, you can check to see if the software you are using allows editing. If it does, you can save or export a chosen file to a different format. To do this:
Go to the program you wish to use for editing and open the file you want to change. Now, click on File. For example, if you want to change a DOC file to a different extension, open it with the MS Word program as it allows for editing.
From here, select Save or Save As from the menu list. Once the Save As window pops up, you will see the option to change the file type just below the file name.
Click on the arrow to reveal the drop-down menu, choose the format that you want the file to be saved in, and click on the Save button.
If you want to change the file extension to an unrelated format that the program does not support, you need to use an online conversion service. Continue to the next section for steps on how to achieve this.
How to change file types using online conversion services
There are applications built specifically for converting from one file type to another. However, if you do not have them, you can use an online service. All you have to do is launch the website and upload the file you wish to convert. Now, wait patiently while the platform performs the conversion on their remote server. Once the process is complete, you can download the file in the new format.
Since your privacy is not guaranteed on most free online conversion services, ensure you do not upload sensitive files that you will not like strangers to access. Only use these platforms for non-essential documents that you do not mind sharing on the internet.
Considering that there are different file types out there, it will be difficult to recommend a particular service. The platform you choose to use will depend on the file format you wish to convert to. Therefore, if you want to try out this method using online conversion apps, you should perform a quick search on Google.
To do this, go to the Google search box, type in convert A to B (where A is the original file type and B is the new file format you want to convert to). For example, "convert PDF to PNG." You can then choose a website that suits your needs from the results list.
How to share large files in different formats on Windows 10
Now that you have learned how to change file types to other extensions, you can easily handle software conflicts that may arise. In addition, you can share these files with your colleagues and friends through transfer platforms. However, if the files are large, you need a reliable platform that allows you to send heavy files conveniently.
While there are lots of apps out there that help with this, they have many limitations. For example, most large-file transfer platforms require you to register and subscribe to a monthly or weekly plan before you can send data. This can be a waste of money if you only transfer heavy files once a month. In addition, these websites limit the file size that you can send at a-go. When the information you want to upload is greater than 2 GB, it can be difficult to find a way to send them over the internet. To make matters worse, these tools place a limit on sending speed, which means it can take hours to send your files. This will be an inconvenience when you are on a deadline.
FileWhopper is a cloud-based platform designed to beat all these limitations and offer you a restriction-free sending experience. You can transfer literally ANY file size of your choice without any speed limitations. Even if you are collaborating on a media project, this tool makes it possible to share information as much as 500 TB and even more. No matter how large the data may be, you can send it quickly using your internet connection.
[fwa-calculator]
There is more! FileWhopper does not require a subscription. All you have to do is choose the file or folder you wish to upload, and you will receive a one-time price quote depending on its size. There are no extra charges and no complicated plans to sign up to.
FileWhopper takes security seriously. The platform runs on military-grade encryption, protecting your files from hackers while sending them. This prevents malicious individuals from intercepting your data, especially if they contain sensitive or private information. It also gives you an extra layer of security by creating a password to share with the recipients. This ensures that unauthorized third parties do not gain access to your files after you are done sending them. Individuals to whom you do not give the password cannot open or download your data.
The tool also comes with a simultaneous upload and download feature, allowing the recipients to start downloading the files while you are still sending them from your end. They do not have to wait until the upload is complete before viewing or opening the information. This is a great time saver, especially if you are collaborating on a time-sensitive project.

This app allows users to share any file format in its original quality. Unlike other large-file transfer platforms, you do not need to convert or compress the data before sending them through FileWhopper. As a game lover, media personnel, or someone who appreciates preserving the integrity of their files, this feature is useful. It is one of the reasons this app is a favorite among users.
FileWhopper installs a lightweight app on your PC to ensure your files are sent even when there is downtime. In unexpected scenarios where your battery or internet goes off without warning, this tiny application resumes your upload from where it stopped whenever the connection is restored. This saves you time and money, as you do not have to start your upload all over from the beginning, no matter the interruption.
If you are looking for a tool that allows you to transfer heavy files at high speed over secure servers, FileWhopper remains top of the list among users. Are you worried about losing important documents or videos? You can use this multifunctional platform to make backups and save them over the cloud.
How to change file extensions on Android
In some cases, you may also need to change the extension of a file on your Android device.
Changing a file extension on your Android device is possible and quite simple. Here are the steps to take:
First, install a file manager app on your device (if you don't have one already).
You will find that most manager apps in the Play Store support changing file extensions.
Once you've installed the file manager app, open it and navigate to the file for which you want to change the extension.
Long-press the file name and select Edit or Rename.
Change the file extension to the needed one and click OK.
And that's pretty much it. As we've said, changing the file extension on Android is really easy. Plus, if you now need to send your newly changed file to someone, you can also use FileWhopper and its new mobile transfer feature. With it, you can easily send a large file (up to 2 GB) of any type from one Android device to another. Just like with standard FileWhopper transfers, you will only be paying for the file you need to send and your data will be protected with zero-knowledge encryption.
Conclusion
You can now modify file extensions on your Windows 10 computer and share them with your colleagues and loved ones. No matter how large your documents are, you can use FileWhopper to send them quickly.
If you have additional solutions on how to change file extensions, feel free to drop them in the comment section below.