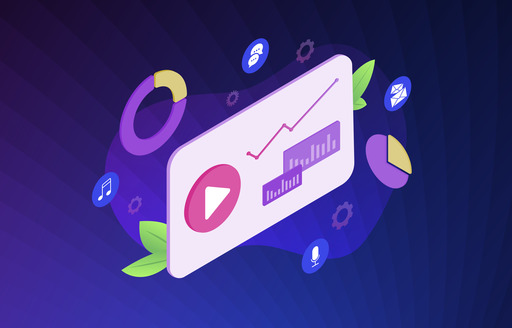 WebM video file format is one of the most popular file formats out there. Supported by multiple browsers and used by YouTube, it's an effective way to store and share videos.
If you are working with the WebM file format and are wondering how to convert, compress and share them, you are reading the right post.
What is a WebM file ?
If a file has the .WEBM extension, it's a WebM video file. It follows the same video format that uses the .MKV file extension.
The WebM file format is often used on HTML5 websites for video streaming and is supported by almost every browser. It's also the format that YouTube uses for all of its videos, regardless of resolution.
This makes WebM one of the most widely used video file formats on the web.
How to play a WebM file?
As the WebM format is one of the most common video formats out there, you will have lots of software options for working with WebM files.
WebM files are supported by most browsers including the popular Chrome, Opera, Firefox and Edge. If you are using MacOS, you can still easily play a WebM file on Safari via the VLC with the VLC for Mac OS X plug-in.
Note that if you are having trouble playing a WebM file on your browser, check if your browser is fully updated. The support for WebM starts with
Chrome 6, Opera 10.60, Firefox 4 and Internet Explorer 9 (featuring the WebM for IE plug-in). As these are very old browser versions, the chances are you already have more recent ones. However, if you are using an old browser version, we strongly advise you to update it to the most recent browser version available. This will not only help you play WebM files but will also substantially improve your browsing experience.
The WeM video format is fully supported by Windows Media Player (if DirectShow Filters are installed too), MPlayer, KMPlayer, and Miro. So, you can use all these programs to play WebM videos.
If you are working on a Mac, you can use many of the same programs, plus the free Elmedia Player.
If you are wondering how to play WebM on iPhone or any other iOS device, you can use the PlayerXtreme Video Player or the VLC media player. If you want to play WebM files using other software, you may consider converting the WebM file into a different supported format.
How to convert a WebM file?
If you want to play a WebM file using specific software or device that doesn't feature WebM support, you can convert your WebM file or files into the needed format.
Converting a WebM file is not complicated. In fact, you can do that easily with a free video file converter program. Some of these programs you will need to download, others are available online.
Zamzar is one of the most popular converter programs out there. It works online and you can use it to convert WebM files to MP4 and other video formats and even save the video as a GIF file.
Note that if you are using an online converter, keep in mind that you will first need to upload the video to the website. Once the conversion is complete, you will need to download your converted video. It's best to use online converters when you need to convert a small video. Otherwise, you may need to spend quite a bit of time waiting for your video to upload and then to download. It will also lead to a lot of data usage — so make sure that you are connected to a Wi-Fi network when you are converting your videos.
WebM vs MP4 - which is better?
It's very difficult to say which of the two file formats is better. It all depends on what you need your video files do and what software you want to use to play them and work with them.
The main difference between the WebM and the MP4 formats is that they are using different
video codecs.
The WebM file format uses VP8 or VP9 while the MP4 format uses H.264. When it comes to video quality, VP8 is higher than H.264.
When it comes to the size of the file, both formats offer similar compression. Because of this, the difference in file size between an MP4 file and a WebM file is not substantial. But WebM files tend to be a bit smaller than MP4 files.
Another difference to take into account is how popular each format is. The MP4 format is definitely more widely supported today compared to WebM file formats — so you will have a wider range of software to work with. If you are using Apple devices, you may also have an "easier" time working with MP4 files as WebM files are only fully supported on Android.
How to compress a WebM file?
Now, as WebM files are video files, they tend to be quite big. This means that if you need to send a WebM file over the web or save it on your device, you may need to compress it.
Compressing a WebM file is not difficult. Just like with conversion, you can use an offline or online program to compress WebM files. You will find lots of such tools online with a simple Google search — and a lot of them will let you compress your file or files for free.
How to send a WebM file?
Sending a large video file online can get complicated. Compression can help make your WebM file smaller but it won't solve all your problems.
If you want to send a file by email, you will run into file size limits. With Gmail, for instance, you can send attachments that are bigger than 25 MB.
If you are using cloud storage and sharing services like Google Drive or Dropbox, you will need to commit to a long term subscription.
So, is there an easier way to send a large video file online? Fortunately, there is. Try using FileWhopper.
FileWhopper is an online service designed to help you send really large files — including WebM files — online. There are a few things that make FileWhopper a great choice.
First, you won't have to deal with size limits. With FileWhopper, you can easily send a supersized 10 TB video folder in just a few quick steps.
Second, there is no need to invest in a subscription when using FileWhopper. So, if you have one video file to send, you will only pay for this one file — no strings attached.
If you are worried about data privacy, you will be safe with FileWhopper. The service uses zero-knowledge encryption, the highest protocol for data protection available today. Thanks to it, no one will have access to your files except for you and their recipient.
Finally, to send files with FileWhopper, you only need a small app. Once you download the FileWhopper app, it will take you through all the steps of the process. Once it's done sending, it will be auto-deleted and you won't have to worry about removing it from your system yourself.
Another great thing about FileWhopper is that you can try the service out for free. Use your first free 5 GB transfer to try it out.