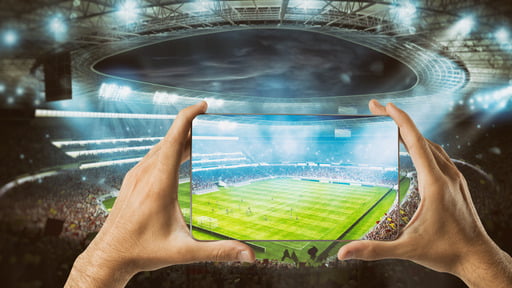 Sport is unifying. There is more to it than just the screams of thousands of people standing together in a stadium. It goes beyond the cheers of fans singing together in synchrony. It's something that brings us together, allowing us to share the joy of laughter and friendship. All over the world, we can see the impact of sporting events on our lives. No matter what country you are in, various sports leagues are available and enjoyed by thousands of people.
However, considering the variety of sporting events available, it's almost impossible to keep track of them all. Even with today's advances in technology, it's still not an easy feat to accomplish. This problem becomes more taxing when you consider that most people enjoy more than one sport. This means they need a way to follow and keep up with the various sporting events they find enjoyable. Therefore, it becomes necessary to find an app that allows you to receive updates on multiple sports.
Some sports apps only give you updates on football, while some offer you updates on basketball and baseball only. For some users, this might be limiting. Not everyone wants to have five different apps on their device for different sports. A good sports app should give you various updates on all kinds of outdoor and indoor sporting events. With that in mind, we will provide you with a list of the top 10 sports apps for Android.
What Are the Best Free Sports Apps for Android?
Here is a list of the best sports apps you can get for your Android device. All these apps are available and downloadable on the Google Play Store:
ESPN and ESPN+
SofaScore
Feedly
theScore
Podcast Addict
Yahoo Sports
TuneIn Radio
Official league apps
Twitter
YouTube
Let's take a look at each of them in detail.
1. ESPN and ESPN+
While some people don't like ESPN, we have to admit that it offers great coverage and variety. It remains one of the most comprehensive sports platforms available, with lots of features. It provides numerous services, which include sports coverage and scores for different leagues. ESPN+ also has a streaming service that offers sports coverage across multiple leagues. There's even a fantasy sports platform available, which can be described as quite competent.
In addition to all these features, there is a written news section, op-eds, rumors, and the like. However, while the platform gives you access to decent news, keep in mind that ESPN is mostly for sports fans in North America.
The app is free, but you can subscribe to its streaming service for $4.99 per month. In addition to popular sports, you can also stream a lot of niche sports. For $12.99 per month, you get access to a bundle containing ESPN+, Disney+, and Hulu. This makes it one of the top apps to enjoy sports while keeping up with family programs.
2. SofaScore
What is the best live score app on the market? SofaScore arguably fills that spot. It gives you live score updates on popular sports such as baseball, basketball, rugby, and hockey. In addition, you also get access to scores for other sports, such as badminton, volleyball, darts, bandy, cycling, motorsport, and tennis.
The app has a clean user interface that is easy on the eyes. Considering the number of sports scores covered by this app, the design is quite impressive. If you enjoy various sports, then this app is a must-have. That said, even if you only keep up with a single sport, you should also have this app on your phone as it helps you keep close tabs on any sport you like.
You can either go with the free version or subscribe at $2.99 to enjoy more features.
3. Feedly
This RSS reader app allows you to follow any sports website of your choice. It gives users access to whatever sites, blogs, and news sources they want without them opening their browsers.
If you're a sports fan who follows multiple sports sites, then you need this tool. It allows you to get sports news feeds from various sites without downloading their apps onto your phone. Think of the storage space this app will save you. Think of all your favorite sports sites in one app. In addition, you also get access to all those indie sports news sites that usually have no apps. This means you can enjoy different sports sources without overloading your phone with apps.
The tool is free, but you can get lots of additional features by subscribing for $9.99 per month.
4. theScore
theScore is a free sports app that has had its fair share of challenges over the years. However, in its optimal mode, it's one of the best sports apps you can get access to. You'll get information about almost all major sports in North America, such as news, scores, schedules, etc. Also, updates on scores and news abroad are available on the app.
theScore has a unique feature for major special events, such as the World Cup. It also comes with an in-app public chat feature for those who enjoy sharing moments with other sports fans online. The best part is that you get to enjoy all these features at no cost.
5. Podcast Addict
Podcast Addict is an amazing podcatcher that scrapes iTunes. This means you get access to any podcast available on iTunes. Therefore, if you are a fan of sports podcasts, this is a fantastic tool for you. You can enjoy various sports podcasts with this app. Podcast channels such as 31 Thoughts and Hockey Central at Noon are a few among the numerous that you can listen to.
The app's UI is quite easy to use and understand after an hour or two on the app. It also offers you many organizational features. You can enjoy the app for free, but you have to endure ads. To remove them and unlock additional features, you can make a one-time in-app purchase of $9.99.
6. Yahoo Sports
Yahoo Sports is a large sports platform run by popular tech company Yahoo! It gives users access to news and reports from most sports worldwide. In addition, it has a blog where you can enjoy in-depth coverage of some sports. A streaming service is also available for some occasional live games, such as the Super Bowl.
For fantasy football fans, there is a very competent fantasy football sports platform. It's one of the best in its genre.
All Yahoo Sports apps are free. However, you can join the paid league of Yahoo Fantasy Sports if you like.
7. TuneIn Radio
When you're talking of sports radios, the list won't be complete without TuneIn Radio. This app features more than 100,000 radio stations and podcasts from all around the world. The channels include sports radio and talk radio. It has a premium feature that supports live NFL, MLB, NBA, and NHL games.
This app is excellent if you are the sentimental type who loves listening to games on the radio. It's free. However, to enjoy the app's premium features, you can subscribe for $9.99 per month. The subscription also gives you access to curated live games.
8. Official league apps
When it comes to sports leagues, each one has its own app. Almost all North American sports have a league app of their own. Even most European football leagues have theirs too. These apps have certain features in common: they give you sports scores, schedules, updates, and news. Some of them even provide you with access to live game streams.
These apps have different subscription costs, which vary depending on the league you want to follow. However, you can use the non-streaming aspect of all these apps at no charge. You only subscribe if you wish to access premium features.
9. Twitter
Twitter might be a place where people attack each other for likes, but it's not all horrible. Amidst the hateful comments, there's some light about the app. As a sports lover, you will find the app's sports aspect to be a gold mine. Almost every league has a Twitter profile, and so do most players, teams, and sports TV personalities. By following their profiles, you get notifications and first-hand updates whenever they make posts.
Team and league profiles post recent news, scores, highlights, and updates. They even throw fun banter among themselves. Players also post information on what's happening in their sports life. It's a great place to get first dibs on the latest news.
As Twitter has tremendously grown in popularity, it's one of the best places to get the latest happenings and updates for free!
You can also go to Instagram, as some players prefer to use it for more personal posts.
10. YouTube
Is there a Google sports app? YouTube, owned by Google, is as close as it gets. This is an excellent app for every type of sport. Even if you miss that great game, you can expect to have it on YouTube within a few hours. There are multiple sports channels on the app covering any sport you could think of. In addition, there are channels that provide epic supercut highlights.
While it's not a great app for getting news and live score updates, with it, you'll definitely catch up with highlights and relive epic sports moments. You can subscribe to the premium version to remove ads, get access to the background play feature, and even enjoy YouTube Music.
Share Special Moments with Loved Ones
After downloading a game video, you may want to share it with a friend. Naturally, you want your transfer to be fast, and you may not want to commit to a long-term subscription. Thus, you need a file-sharing platform that can transfer large files at high speeds without asking you to pay a monthly subscription fee.
FileWhopper helps you transfer files and folders of ANY size, no matter how large. You also don't need to subscribe to use all the features of this cloud-based platform. You only pay for the size of the file or folder that you want to transfer. In addition, you can send any file of your choice without compressing it. This ensures that the quality of your file is preserved. Enjoy this secure file-sharing platform and share your favorite sports videos with your friends.
Conclusion
The tools in this article will help you share the joy of sports with your loved ones. Stream and download your favourite moments. You can then use FileWhopper to send them to your friends even if they're in locations where they can't stream sports games.