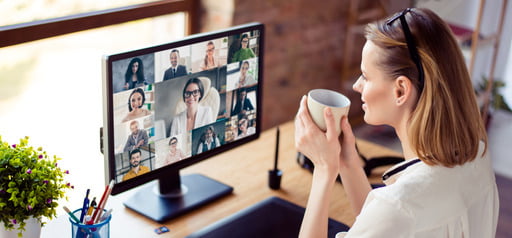 With the Coronavirus pandemic still raging in many parts of the world, physical meetings and gatherings are suspended in many areas. Thus, you need a way to keep in touch with loved ones and colleagues without leaving the comfort of your home or workspace. Thankfully, there are apps that can help you with this, and some of them are even free.
There are many excellent video chatting apps to choose from. In this article, we review the best video calling apps. You can use some of these applications on more than one operating system and your mobile devices as well. These tools make it possible to keep up with your personal relationships, collaborate on work-related projects, and even keep your team updated on your game progress.
You might have heard of these applications before, but you might be uninformed about the different features they have to offer. This guide will give you a comprehensive insight into the best video chatting apps in 2021 and their unique aspects.
What Are the Best Free Video Calling Apps in 2021?
So, without further ado, what are the safest video call apps that you can use for free in 2021?
1. Zoom Meetings
Zoom Meetings makes it on this list as the top video chatting app on the market. It comes with both free and paid versions, which makes it an excellent fit for different types of users. It is compatible with devices operating on iOS, Android, macOS, and Windows and also has a web version.
Pros
It is suited for chatting with both friends and colleagues.
It is compatible with all the most popular platforms.
It has such useful features as breakout rooms, a whiteboard and a screen-sharing tool.
Cons
On the free plan, there is a 40-minute limit for over 2 individuals.
There is a good reason why lots of people are turning to this app for their video call needs. Zoom Meetings is popular among professional teams and business groups. However, it is also starting to gain traction among individuals looking to have personal video conversations. Its extensive features are supported across multiple platforms, whether you want to download the app on your PC or smartphone. Users can also use the web version of the app without having the application on their devices.
It has a screen-sharing tool and live annotations. These come in especially handy when you are hosting a teaching session or presentation. Zoom Meetings also has standard encryption that protects user privacy. These features are all accessible on the free plan.
Zoom Meetings allows you to enjoy unlimited video sessions as long as you are chatting with one friend. However, when you invite three or more users, you get a 40-minute time limit, after which the video chat will be terminated automatically.
To enjoy unlimited video calls with more users, you can subscribe to the Pro version for $15 per month. This removes the time restriction and allows you to invite up to 100 individuals to the same call. On the other hand, the Business plan allows you to connect more than 100 people at a time and is best suited for enterprises.
Zoom Meetings has a password protection feature that ensures unauthorized individuals do not gain access to your meetings. Furthermore, the latest app update comes with the AES 256-bit GCM encryption protocol, which prevents hackers from intercepting your video chat sessions. The end-to-end encryption feature gives you even more security, especially if you want to discuss sensitive information.
2. Skype
Skype is on this list because it is an excellent alternative to Zoom Meetings. What makes this app stand out is how easy it is to use. It is compatible with Android, iOS, macOS, Xbox, and Windows and also has a web version. Unlike Zoom, it allows free calls with up to 50 participants.
Pros
It allows up to 50 people on a free video call.
It allows users to place international calls and send texts.
It is available on multiple platforms.
Cons
You need to pay to access the business version.
Skype is a popular video call tool known to many people. Microsoft designed this app to allow a maximum of 50 users on a video call at absolutely zero cost. It also has a browser client that is available on desktops and smartphones alike.
If you are looking for a way to connect with people who do not have their own devices and can only access a basic cellphone or landline, then this app is for you. Since Skype supports international calling and texting, you can use it to contact friends living in countries where the internet might be a luxury.
Skype also makes it possible to share your screen on smartphones and carry out live translation and transcription.
There are also Microsoft Teams and Skype for Business, which give you access to more features and functionalities. However, if you only need to have video chats with friends and colleagues, you may find Skype sufficient for your needs.
3. FaceTime
iPhone users, this one is for you. This is a video chatting app from Apple that is built into every iPad, iPhone, and Mac device. It is compatible with macOS and iOS only and allows users to connect up to 32 people for free.
Pros
It is preinstalled on every Mac, iPad, and iPhone.
You can use it for audio calls and video chats.
Cons
The app allows a maximum of 32 people on a call.
It is available for Apple devices only.
Apple is one of the first companies to have created an app for communicating through video calls. If you have an Apple device, this application is already installed onto it, which means you can simply open it and connect with your loved ones.
FaceTime comes with a lot of fun and easy-to-use features, such as attention-grabbing Memojis, cute Animojis, and stickers. Users can video chat with as many as 32 people on a single call. You can use the FaceTime audio tool to place unlimited voice calls over Wi-Fi any time you want. If you have a strong internet connection, this is definitely better than using cellular providers.
The downside of FaceTime is that it is only available on Apple hardware. This means that you cannot use FaceTime to connect with your friends or colleagues on Android. However, considering that many people now own iPhones, Macs, and iPads, you probably know lots of friends that you can connect with through FaceTime.
4. Google Duo
With Apple devices having FaceTime, Android phones had no competing built-in app until Google released the Google Duo application.
Today, Google Duo comes preinstalled on almost all Android devices. However, it is also compatible with iOS and Windows and can be used on the web. Users can connect up to 32 people at the same time for free.
Pros
The app is built into most new Android devices.
It has a clean and easy-to-use interface.
It is absolutely free.
Cons
There is a limit of 32 users only, which is not enough if you want to host a large call.
The great thing about this app is that most new Android phones have it preinstalled, which means you do not need to search for it on PlayStore. Your friends can open their phones and connect immediately. Google Duo supports quite a number of awesome features that make it easy to record and send video messages. This allows you to communicate with colleagues and loved ones even if they are not available at the time of the call. You can simply leave them a video message.
Since Duo is also compatible with iOS, your iPhone-using friends can seamlessly connect with you. Recently, Google released news that they plan to build Duo into the Google Meet app. This will add an extra layer of functionality to what you can achieve with Google Duo.
If you are looking for a free video chat app that offers simple and practical features, you should check out Google Duo. It is one of the best applications available for Android users.
5. Discord
Discord stands out as the best video chat app for gamers. It runs on Android, iOS, macOS, and Windows and has a web version. It allows you to connect a maximum of 25 users. In addition, the application allows you to host 50 users if you are streaming, all for free.
Pros
It is a great app for gaming.
It has PC, mobile and web versions.
Cons
It does not have many work-friendly features.
If you are a gamer, you already know that Discord is an excellent app for texting with friends. However, what you might not know is that it also offers video chatting features. In addition, it allows you to stream in-app, which means that you can stream your screen content to the rest of your team while gaming.
Discord increased its Go Live streaming service's capacity from a maximum of 10 people to 50 users. This means that you can host and share your screen with 50 people simultaneously for free. If you want to increase your streaming quality, you can subscribe to the Nitro plan for $10 per month. This will upgrade your video quality from 720p/30 fps to HD of 1080p/60 fps.
6. Facebook Messenger
Facebook Messenger is a great FaceTime alternative for cross-platform connections. It is available on Windows, Android, iOS, and macOS and through the web and allows up to 50 users on a single call.
Pros
It is available on all popular platforms.
It allows up to 50 people on a single call.
Cons
It does not have many work-friendly features.
Facebook is so popular that you most likely already have an account set up on the website. It is a convenient app that you can use to connect with friends and colleagues. If you have not signed up yet, all you need is a Facebook account. You can then download the Facebook Messenger app on your smartphone. If you prefer, you can also log in through the web app on your PC.
Once you launch the Messenger app, tap on the video camera icon to start a call with one person or a group of friends. Unlike when using Google Duo or FaceTime, you can have a video chat with as many as 50 people on the same call. You can even carry out lots of other functions, such as sending chat messages to other users while still on a video call.
7. WhatsApp
WhatsApp is another great cross-platform video calling tool. It is available on both iOS and Android, and you can easily connect your Windows device if you already have an account on your smartphone. In addition, you can have a video chat with as many as 50 people on this app.
Pros
You get greater privacy and security as calls and messages are end-to-end encrypted.
The tool allows up to 50 users on a group call.
Cons
The video calling feature is only available on smartphones.
No doubt you have heard about WhatsApp or know someone using it. It is one of the most popular messaging platforms available on smartphones today and is also a convenient video chat app. By simply creating an account with just your phone number, you get access to a tool that allows you to connect with a large community of users. Your friends, family, and colleagues most likely have an account on the platform. Even if they don't, they can download the app and register within 5 minutes.
In the past, WhatsApp was not the best platform for video calling because of its user limit. However, this has changed since it was upgraded to allow 50 people on a single call. This was made possible by the latest integration with Facebook Messenger's new feature called Rooms.
However, there is a downside to this great app. Even though WhatsApp offers desktop and web app versions, users can only make video calls on their smartphones. On the bright side, video chats are end-to-end encrypted, which protects user privacy and adds an extra layer of security. This prevents malicious individuals or hackers from intercepting or spying on your chats, so you never have to worry about your conversations getting into the wrong hands.
How to Send Large Files and Folders Online
Whether you're a gamer looking to send game files to your friends or a project manager handling an assignment, you need a means of sending large files and folders quickly. While the video chat apps in this guide will help you collaborate with your team, they are limited when it comes to sharing large amounts of data.
These video call applications limit the size of files you can send, which makes them inconvenient when trying to transfer files and folders as large as 1 TB and above. There are popular platforms that allow users to send large amounts of data, but these have their restrictions as well. For example, if you want to send a file or folder as large as 100 TB over the internet, you will find this problematic. You might have to rely on using external drives and sending them by postal mail. This is, without a doubt, time-consuming and stressful.
In addition, most file transfer apps have a speed limit that prevents your files from being transferred quickly no matter how fast your internet speed is. They also require that you subscribe to a weekly or monthly plan before you can use their services. If you are not a regular user and only send large files occasionally, such subscriptions are, without a doubt, a waste of money. Instead, you need an app that offers top security, does not force you to subscribe, and allows you to send a file or folder of any size at a high speed.
FileWhopper is a cloud-based platform that makes this possible. With it, users can send files and folders of ANY size with no limits whatsoever. If you want to transfer that 500TB project folder or your game data, this app makes it easy. What's more, you can do this at a high speed with no upload caps or speed limits. This means that the recipient will receive the data without waiting the whole day.
In addition, FileWhopper does not require you to purchase a subscription to be able to use it. You do not have to choose from confusing or complex plans that you will not need in the long run. The platform offers you a straightforward way of uploading and sharing files and folders. All you have to do is select the folder or file you wish to send, and the app will show you the one-time fee you have to pay to transfer your data. The fee depends on the data size. There are no extra charges and no hidden fees.
Once the upload commences, you will receive a link and password to share with the intended recipients. They do not have to wait for the upload to be complete to start downloading your data because the app supports simultaneous uploads and downloads. Simply share the link and password with them, and they will begin downloading the data while it is still being uploaded at your end. This is awesome, especially when you are on a video call where time is of the essence.
FileWhopper takes security seriously and uses military-grade encryption to ensure hackers cannot access or intercept your data while on storage or in transit. It also gives you a password, which acts as a second layer of protection. You can introduce a password of your choice if you like. Only individuals with whom you share the password can open and download whatever you upload. This is quite useful when you are dealing with sensitive information.
To ensure your upload progress is saved even when your network unexpectedly goes off or your battery runs low, FileWhopper installs a tiny app onto your device. This app is a lightweight tool that makes sure your uploads resume precisely from where they stopped once the connection or power is restored. When using FileWhopper to transfer your large files or folders, you do not have to worry about unforeseen interruptions affecting your upload progress.
In addition, you do not need to compress or alter the quality of your data when sending it with FileWhopper. You can upload and share whatever you want in its original size and format. This makes it a popular option among users.
Conclusion
When it comes to choosing the best video chat app, you have to consider your needs. Since the tools listed in this guide are free, you can try each of them until you find the one that works for you. That said, asking yourself what you need in a video chat application is important. If all you are looking for is a platform where you can make video calls on your phone alone, then Duo, Messenger, and FaceTime will serve you well. However, if you need a professional tool that allows you to collaborate with many individuals and connect to multiple devices, then Skype, Zoom, or Discord is recommended. These apps make it possible for you and your friends to video chat from different devices – computers, tablets, and phones. As long as you are not hosting many people and do not plan on having long video call sessions, the free versions of these applications are adequate.
In the end, you will naturally opt for the app that most of your friends and colleagues are comfortable with. However, any of the options in this guide will serve you well.