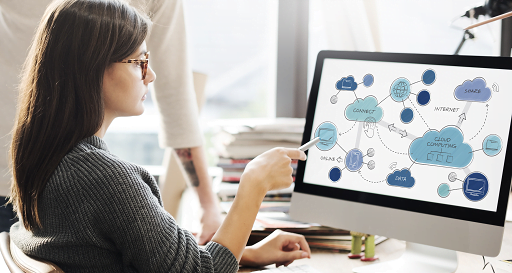 If you are on the verge of starting your own business or have recently started it, you need to implement modern solutions that are essential in your industry. With technology developing almost on a daily basis, it is vital to stay updated with how things progress. Most of the businesses are now operated fully or partially online for the convenience of their owners, employees, and clients. Therefore, if you are considering implementing cloud computing in your business, you are definitely moving in the right direction as it will help modernize your business and get easy and cheap solutions.  
What Is Cloud Computing?
Cloud computing is an umbrella term that embodies the use of an internet connection to gain access to data. In this fast-paced world, it is vital for business owners and their employees to acquire the information they need when they need it regardless of the device they are on or the location they are in at that moment. With cloud computing, you have the liberty of accessing whatever information you need through the use of various devices that are connected online. Cloud computing gives the user the ability to obtain massive data when on the go, at the office, and even at home.
Services Provided by Cloud Environments
As indicated earlier, cloud computing is an umbrella term that features many types of services. Here are some of the main services provided under cloud computing:
Cloud Storage—with this service, your business can enjoy one of the most convenient and safest ways of storing data. You can back up and store data using cloud storage and access it whenever you need using various types of devices. Since your data will be stored on a cloud server, it doesn't matter where you will be as long as you have your own unique login details to access the information you need.
Cloud Backup—this service is similar to cloud storage, but it solely focuses on backing up your data in case you need to recover it later due to a crash or data loss.
SaaS—the Software as a Service model utilizes the internet to distribute software. There are many businesses, such as Microsoft and Google, using this software distribution model.
Cloud Hosting—this service enables all sorts of information processing and allows you to spread the resources you need for managing your website across more than one server.
With all the features considered, cloud computing seems like a great option. That said, it can be a bit confusing, so you need to understand the following before selecting cloud computing services suitable for your business:
Decide what cloud computing services your business needs.
Consider the costs that you are willing to spend on cloud computing services for your business.
Consider the security risks that come with cloud computing and find the most efficient way of minimizing them.
Is Cloud Computing Essential for Business in 2019?
The advantages of cloud computing are endless for every type of business. There are various improvements that cloud computing leads to, including increased productivity, better collaboration, and fast innovation. With cloud computing, businesses, from small to large, are able to access any information they need using a compatible device anywhere. This gives your business the opportunity of staying ahead of its competitors and quickly responding to the needs of your customers. Instead of keeping all of your data on a local server or a computer hard drive, you have your information stored on a secure online server where it can only be accessed by those with the required level of authorization. Your data is kept in an online central hub that can only be accessed by approved employees, team members or colleagues. All the connected devices are also kept synced so that you can monitor the progress of and work contributed by each of your employees towards a project.
The cloud environment is more of a virtual space where everyone involved has access to all of your company data, services and applications. It provides vital features that enable authorized members to collaborate remotely when working on the same project regardless of where they are in the world. You do not need to go to the office in order to access important data as cloud computing will make it available anytime, anywhere.
There are three types of cloud computing services used by businesses, namely:
1. Public Cloud
This is a cloud that is based on an external server operated by its provider. A public cloud offers users space within a shared infrastructure. To put it in simple terms, your business is like someone who is renting a flat inside a building with other flats. Mind you, each tenant will have their own keys to access the flat and enjoy privacy. The same applies to your business: although the infrastructure is shared, your information cannot be accessed by anyone without your consent. The company responsible for the server provides all the tools needed to boost security and maintains the cloud system. With the system managed and maintained by a company focusing on delivering cloud services, this service is ideal for small businesses that are looking for a cost-effective option providing the latest technology opportunities and security measures.
2. Private Cloud
This is a cloud that is built within your walls, and only your internal IT team is responsible for maintaining it. A private cloud uses your own hardware and software, which means there are no third-party organizations involved. A private cloud is ideal for a company with an infrastructure that requires exclusive access. It also gives flexibility and better control of your company data. This type of cloud is expensive compared to the previous one as it requires the company to build its own data centers.
3. Hybrid Cloud
This one allows companies to use both public and private cloud services. A hybrid cloud will enable your internal IT team to monitor the in-house cloud activities while the rest is being taken care of by the cloud service provider. With this service, a company is able to keep their most sensitive data in-house while the other data is kept on a public cloud.
Why Cloud Computing Is Good for Small Businesses
Secure data management
Finding the best solution when it comes to handling data online can be a bumpy drive. With so many cyberattacks being recorded on a daily basis, it is vital to consider security when planning how to handle your data. Online clouds can provide you with reliable, although not foolproof, services, especially when it comes to recovering lost data. Unlike ancient services that forced you to deal with the risk of losing your entire data yourself, cloud servers, which are remote and online, help you restore your precious data with dedicated features, hence less worry about losing your data.
Flexibility in storage capacity
Obviously, over time, the data stored on the cloud increases in volume. Therefore, it is natural that your business will require more storage space later on. This doesn't mean you will have to switch to a new cloud service. All you have to do is simply extend your storage capacity. Depending on the cloud service company you are with, storage extension varies in cost. However, the ability to increase storage capacity at any time gives your business a convenient structure that allows it to grow at its normal pace.
Remote access
One of the most attractive features in cloud computing is the ability to access data remotely without having to go to your workspace. This feature enables your company employees or team members to work wherever they are without having to meet in one location. This increases productivity as individuals tend to strive when being able to work where they feel most comfortable.

FileWhopper — Best Online Service for Sharing Large Files
If you are looking to share huge files at lightning speed, then you should consider FileWhopper. FileWhopper is a service that lets you send files and folders of any size and pay only for what you send. The program is user-friendly and secure to use. Your data is encrypted all the way to the recipient and can be downloaded only by them. To top that, FileWhopper will keep your data on its servers ready for download for 14 days (which can be easily extended to 3 months if you wish so). After this period is over or after the content has been downloaded, your data will be deleted permanently without leaving any traces.
Here is how it works:
- Download the tiny FileWhopper client, which you will use to upload your big file or folder to the server.
- Select the file or folder you wish to send and upload it.
- Get the unique link directing to the downloaded data and share it securely with the intended recipient.
- Note that your data is password-protected for security reasons; therefore, you will need to also share the password.