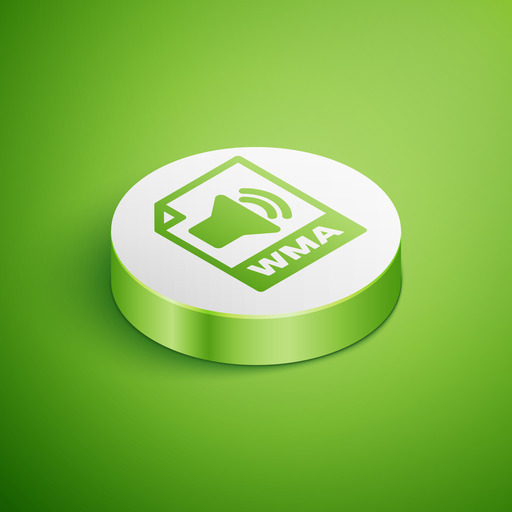 There are many different audio formats, from the popular MP3, WAV, and FLAC, to the less popular AIFF, OGG, PCM, and WMA. However, each of these audio formats and extensions has features that set it apart from every other. Whether this distinction has to do with compression style, sound quality, or file size, every audio format exists for a reason. Nevertheless, an audio format existing for a reason is not the same as that audio format being readily accessible. A good example is the WMA audio format which does not have widespread usage likeMP3, for instance.
We compiled this article knowing that having a WMA file does not mean you know how to access it. The goal of the article, therefore, is to offer you tips on how to open, convert, and send audio files with the WMA extension. In the process, we will present the distinctiveness of the WMA audio format in greater detail and how it compares to MP3 in sound, size, support, and other properties.
What is a WMA File?
WMA (short for Windows Media Audio) is the audio format designed by Microsoft Corporation. Along with WMV (Windows Media Video), Microsoft developed WMA to compete with and eventually replace other media formats for sound and visuals. WMA, especially, was made as an alternative to MP3 for Windows users. This is why a new Windows OS usually has a handful of default audios, all of which are in the WMA format. However, despite this goal, Microsoft developed WMA with several things in mind.
For one, WMA was originally a lossy compression format, meaning that every unnecessary piece of informationgets scraped from the file. As a result, only the most valuable data is retained after the audio conversion. Formats like these, therefore, boast better sound quality and are typically smaller, thereby requiring lesser storage space.
In addition, Microsoft developed other audio codecs to serve as WMA sub-formats. These include WMA Pro, WMA Lossless, and WMA Voice. Each of these sub-formats corresponds to different user demands. So, users who want high-resolution (high-res) audio get WMA Pro; those who want the combination of sound quality and size economy get WMA Lossless; and those who want to reproduce initially recorded sounds get WMA Voice.
WMA Vs MP3
Despite having multiple codecs, the WMA format is not as popular as the MP3 audio format. For one, the sound quality of a WMA file is significantly better than the same audio in Mp3, especially in low bitrates. Also, when it comes to playing high-frequency audio, converting the audio to WMA will yield smoother sounds than MP3. Moreover, WMA files are generally smaller because of the lossy compression method.
Overall, WMA was developed almost exclusively for Windows users. Nevertheless, the audio format has become closely associated with streaming music.
How to Open a WMA File
Despite the advantages of the WMA format over MP3, only a relatively few audio players were designed to open it. Considering that it was designed for Windows users, when these users try to play WMA on Mac for the first time, they often wonder whether the macOS has provisions for it. Similarly, Android OS and iOS users often wonder the same thing. But the answer is yes, each of these operating systems can open audio files in WMA. However, some (Windows, obviously) have WMA as a default audio format while others do not.
Any WMA file will play on Windows. It doesn't matter whether the Windows OS is being installed for the first time or has been refreshed to remove viruses. As long as the Windows OS comes with the default audio player, Windows Media Player, it will recognize and open an audio file with the WMA extension without issue. However, if double-clicking the file does not bring up the Windows Media Player option on Windows 10 or 11, you can always try the following:
Use Windows key + R to launch the Run program.
Type wmplayer into the Run search bar and click OK.
Once the Windows Media Player comes up, click ctrl + O to use the Open-File option.
Locate the file from the folders on your Windows computer and double-click it.
If you are not using a PC with the Windows OS installed, you call always use third-party software such as VLC media player (for Windows, Mac, Linux, and Android), Groove Music (for Windows), EltimaElmedia Player (for Mac), Audacious (for Linux), and olimsoftOPlayer for iOS.
If none of the above-listed players can open the audio file, check to make sure that the file extension is not WAM, WMF, WML, WMP, or WMZ. None of these are audio file formats, even though they can be confused for WMA due to their spelling.
How to Convert WMA to MP3 and Other Audio Formats
Converting WMA Files with iTunes and Apple Music
Converting a WMA file is easier to do on Windows than on Mac. This is because whiledefault Windows audio players like Windows Media Player can easily convert WMA audio, Mac's iTunes or Apple Music app cannot. As a result, converting WMA to WAV on Mac, for example, would require the use of a third-party application like VLC or an online converter.
Converting WMA Files with Online Converters
Using an online converter is another good way to convert a WMA file. The biggest advantage to using this method is that you are not limited by the OS installed on your PC. You don't have to use a PC to convert since all you require is a working internet connection. As a result, you can use these online converters via internet browsers on your Android phones and iPhones. Furthermore, the speed of conversion depends on your internet connection.
Examples of online audio converters that support audio conversion from/to the WMA format are Freeconvert, Media.io, Online-convert, WondershareUniconverter, and Zamzar. For each of these online converters, all you need is a working internet connection and web browser. Some require you to subscribe or pay for the service.
Converting WMA Files with VLC
Without question, the VLC media player is the most popular third-party converter for the majority of lesser-known audio formats. So, if you have VLC installed on your PC and want to convert it to MP3 or WAV or any other audio format, follow the steps outlined below:
Launch the VLC media player app on your computer.
Move your cursor to the menu bar and select Media from the array of options.
From the options that pop up, click the one that says, Convert / Save… A shortcut for this on Windows is ctrl + R).
After selecting Convert / Save, VLC will display four tabs. Select the one titled File.
Within the File tab, there is an Add option that lets you locate the WMA you want to convert. Click the button and follow the mini-interface to find and select the file with the WMA extension.
Pull your cursor further down to the Convert / Save drop-down option and choose Convert. Once you have selected Convert, the VLC audio convert interface will change to one that allows you to choose the exact extension for the new file.
Move your cursor to the Profile bar and select the audio extension you want for the new file. You can further modify the audio to be converted by clicking the settings icon for Edit selected profile. This will let you smoothly integrate the file to be converted with a subtitle file or screen the audio with a number of VLC-default filters.
Once you have settled for the preferred audio extension for the new file, you can use the Browse option to determine the destination of the new file. That is all. All you have to do after this is use your cursor to click the Start button to get VLC to convert the WMA to WAV or MP3 or any other audio format and file extension of your choosing.
Converting AAC Files with Windows Media Player
Windows Media Player is the default audio player for Windows OS. As a result, only Windows users can use it to convert WMA files to other audio formats. The only exceptions are users with hybrid OS computer systems. Nevertheless, the process of WMA conversion via Windows Media Player requires you to have the WMA on a compact disc (CD), and only then can you effectively convert it to whatever audio format you want.
The actual process of WMA conversion with Windows Media Player is called ripping. However, before you can follow through with this process, you have to set up Windows Media Player to convert audio files in the WMA format to preferred file extensions. You can start this setup by following the steps outlined below:
Launch Windows Media Player on your Windows PC. You can use Windows key + R to launch the Run program and then type wmplayerinto the Run search bar and click OK.
Once the player is up and running, navigate your cursor to the Tools bar and left-click. If the player's menu is not displayed, use the ctrl + M key combination and it will come up.
Next, select Options from the Tools menu tab.
Using your cursor, locate the tab with the title Rip Music.
Within this tab, choose your preferred destination for the audio file to be converted.
Move your cursor to the Format option and choose a suitable audio format from the drop-down options.
Deselect the Rip CD automatically option if it is selected.
Move the bar for audio quality to your preferred range and select Apply and then OK.
Thus, as long as you have audio files in the WMA format and on CD, you can directly convert them using Windows Media Player without even playing them.
How to Send a WMA File
Due to the popularity of MP3s, you can send them as email attachments to other people without worrying too much about how they are delivered to the recipient of your mail. This is not always the case with lesser-known audio formats like WMA. Sometimes, an email-service platform may attempt to forcefully change the file extension, if not identify it as a corrupt file. Therefore, you need to pay extra attention to how you save or send an audio file with the WMA extension to someone over the internet.
Using Email Platforms
The most common method of sending WMA files is via email. These platforms usually preserve the integrity of the file and deliver it on time. However, when you use popular platforms such as iCloud Mail (for Mac, iPhone, and iPad users) or Gmail (for everybody) to send a WMA file, you may be informed that the size of the file is too big. iCloud Mail has a limit of 20MB unless you are using Mail Drop, while Gmail has a limit of 25MB. So, if you are sending WMA files within these limits, you can use them. However, if you are sending WMA files of over 25MB, you can use dedicated file-sharing services instead.
FileWhopper as an Alternative Method for Sending WMA Files
FileWhopper lets you send up to 5GB worth of WMA files securely and for free. It uses its zero-knowledge encryption for secure file transfer. This encryption method essentially lets you send files and folders in a way that even FileWhopper developers cannot access the files/folders without your password. And only you are privy to the password unless you decide to share it with someone else.
FileWhopper is also very useful for secure file transfers vis-à-vis distinct file extensions like WMA. So, whether your file extension is WMA or a format that is rarely used, FileWhopper will help you send it forcefully converting its content or compressing it.
Moreover, FileWhopper is free for any file/folder below 5GB. It also does not require you to subscribe or register for its file-sharing service. So, unless you are sending files/folders that are over 5GB in size, you don't have to pay to use FileWhopper.